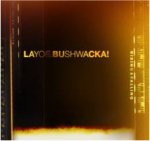 Layo & Bushwacka! - Rising and Falling.
In the six years since their previous artist album, Layo & Bushwacka! have continued to stay at the forefront of the electronic music community via their legendary 'Shake It!' parties, and a consistently impressive stream of releases via their own label 'Olmeto': notable highlights including 'Now Is The Time', 'Summer Gone', and two EP's for Richie Hawtin's Plus 8 imprint.

Their first album was 'Lowlife' on End Recordings in 1999, followed by 'Night Works' on XL in 2002, and 'Feels Closer' on Olmeto in 2006.

Their fourth studio album 'Rising and Falling' is set to reaffirm their status as electronic music heavyweights: A selection of productions that nod to their own musical heritage, but at the same time keep them effortlessly current, mixed together to form a continuous long-player that is destined to become another milestone for house and techno community.

'Rising & Falling' extends the musical lineage and influential body of work from a production duo that has been a cornerstone within electronic music for the best part of two decades. Drawing on their rich tapestry of global musical influences, 'Rising & Falling' serves up an exciting pastiche of productions which are woven together to form a long-player that exudes the confidence of two producers still at the top of their game.

Kicking off with 'Delta Ahead' with its chugging anticipatory beat, the tone is expertly set as the track's intricate synths provide the perfect platform for Layo & Bushwacka to flex their production muscle. Tracks such as the haunting yet dubby 'Emotional Intelligence'; the ethereal 'Tender Love'; and down-tempo 'Close To Me' demonstrate the duos ability to make more ambient tracks that allow their sound to continue to bridge the gap between home listening and the dance-floor.

For fans in search of dance-floor orientated tracks there a numerous delights across the album. From the bubbling enveloping sounds of 'Thylacine', to the racy percussive tribal beats of 'Born In The Backwoods', through to the break-beat driven 'Raw Defined' that is sure to find its way into the bags of many DJs. '5am' typically exemplifies its title and is superb production that will no doubt be heard on dance-floors as the night segues into day.
The original version of 'Dancing In The Dark', whose expertly crafted remixes gathered substantial critical acclaim during the summer, highlights why the duo are still attracting remixers of the highest calibre. Finally, the album's title track completes a master-class in production with a high-tempo groovy beat.

As 'Rising & Falling' ebbs and flows through a multitude of sonic landscapes, it will remind their global fan-base why their productions are so loved, whilst also capturing the hearts of a new generation of listeners.

Herausgebedatum: 22. Oktober 2012
Label: Olmeto
Katalognummer: ?
Label: Olmeto
Die CDs können direkt auf der Site [http://www.cede.ch] oder auf der Site [http://www.directmedia.ch] bestellen werden.
Die CDs können direkt auf der Site [http://www.vinylnews.ch] oder aud der Site [http://www.webrecords.com].
Diesen Eintrag wurde am 23.09.2012 durch sven publiziert.