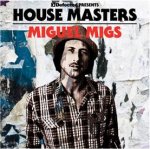 Miguel Migs - House Masters.
With the latest release in the acclaimed series Miguel Migs is the latest producer to be crowned an official House Master by Defected Records, dedicating two discs to the legacy that Migs has built up during his inimitable career.

House Masters Miguel Migs is the first comprehensive collection of work from a producer who damn near defines the deep, soulful house genre of the late 1990s and early 2000s and features classic and current cuts including original and remix works such as 'Life' (Unreleased Version), Lisa Shaw 'Cherry' (Miguel Migs Salted Vocal Edit), Miguel Migs feat. Evelyn 'Champagne' King 'Everybody', Blue Six 'Pure' and Nightsource 'Don't You Wanna?', 'Petalpushing' and the brand new 'Dance And Clap'.

Miguel Migs is one of the most respected DJs, producers and label owners in the US; an artist whose influence on the landscape of house cannot be overlooked. Migs personifies the chilled-out, soul-driven vibe of both the Naked Music and Salted label projects in which he has been involved and, hailing from San Francisco himself, has been influential in cultivating and pioneering the famed 'West Coast scene'. Combining the best of the electronic music world with live instrumentation, he has carved out an organic, soulful niche and with which carries with him the undying respect of his peers.

In selecting the tracks to include on this new compilation, Migs had the enviable task of sifting through his extensive back-catalogue in order to create a balanced collection of his diversity of styles. "I wanted to showcase a wide variety and a balance of old material as well as some of my newer songs" he explains. "It's a fine line between choosing a steady musical flow and keeping it interesting with the track selection by choosing a balance of soulful vocal works, deeper dubs, and various tempos."

The result is a compilation in which each track unmistakably bears Migs' signature imprint and yet steadfastly remains diverse and interesting; a remarkably distinct assembly of well-crafted songwriting, soulful melodies, warm chords, engaging vocals and soothing basslines that divulge his numerous musical influences.

"I have always been inspired by rock, reggae/dub, soul, 80s, disco, hip-hop, funk and just about everything in-between" reveals Migs "and I wanted to showcase some of that diversity in this compilation, focusing on creating an enjoyable listening experience through a span of time, while also having some updated and unreleased versions to spice things up.

"I hope the listener is able to appreciate the spectrum of sounds and understand that I just love music, plain and simple" he concludes "and that regardless of current trends or hype I try and stay
true to creating music that I feel and enjoy."

Herausgebedatum: 1. Oktober 2012
Label: In The House / Defected
Katalognummer: ITH ?
Label: In The House / Defected
Die CDs können direkt auf der Site [http://www.cede.ch] oder auf der Site [http://www.directmedia.ch] bestellen werden.
Die CDs können direkt auf der Site [http://www.vinylnews.ch] oder aud der Site [http://www.webrecords.com].
Diesen Eintrag wurde am 06.09.2012 durch sven publiziert.