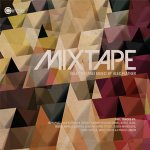 Selected and Mixed by Alex Flatner - Mixtape.
Alex Flatner has been honing his craft for many years, running the very successful underground labels Circle Music and Gedankensport, A&R managing the prolific labels Harthouse and Plastic City, as well as being a highly regarded DJ and producer.

For Mixtape, he has gathered together a supreme selection of tracks by established Circle Music artists and newcomers, programmed and mixed together to perfection by the man himself. All tracks are unreleased and exclusive to this compilation and are only available for this release, worldwide, making Alex Flatner's Mixtape a perfect showcase session for 2012.

Mannheim based Circle Music doesn't have a particular style. Alex signs and releases tracks because he really likes them and also plays them in his DJ sets. An ever-evolving, broad musical palette from techno through to nu-disco, means Circle fans can expect to be invigorated (and sometimes surprised) with each new release. Mixtape brings together everything that is exciting and challenging about having a bold, open-ended music policy.

Opening with the mellow, hypnotic, vocalized grooves of established Circle artist, Slok, it is immediately apparent that there is some extraordinary talent on show here. Sebbo's "Sugar Kane" glides effortlessly into the opening percussive groove (check his recent "Anyway" single for more proof of this guy's top notch credentials). The funk factor rises with the new, upcoming Italian duo of Danima & da Ragnio, before Patrick Kunkel (who you may know from his Cocoon releases) teams up with Nueremberg's Jürgen Kirsch to introduce a darker electro vibe to the party, a jackin' mood shared by the next established Circle Music artist, Hermanez.

Mix compilations are a great way to introduce exciting new talent to the world and Switzerland's Simon Slice has an uplifting vibe that is instantly memorable. As Alex Flatner says: "New name, new face, great music!" Two longtime masterminds of superb music are juxtaposed with this hot new talent in the shape of Matt Flores & Franksen (host of the legendary HR3 Clubnight show at You.fm), whose "Blacklight Romance" is cut from the same cloth, before two more established Circle artists, Marc Vision & Franco Lemon, take the mix in a joyous classic house direction with "Change".

Marius & David (who's remix of dOP's "After Party" will be a well known to many) are new faces on Circle Music, and instantly turn up the energy levels with the acidic grooves of "Man In The Shadow". Alex Flatner displays yet another A&R masterstroke in Patrick Podage's "Shining Through", with its futuristic disco vibe this is yet another new name and new face with great music for Circle. The theme is continued in style by one of the most highly rated artists in Holland, Warren Fellows, who teams up with compatriot de Joog, taking things to the next level with "Episode".

Alex Flatner shows exactly why he is such a highly rated producer himself, teaming up with studio partner LOPAZZ for the future disco-tech anthem "Dislike", lifting things further with the spiraling hypnotic grooves of an international tag team comprising of Canadian Joel Armstrong and Frankfurt's Skai featuring Noah DeSmith, before dropping into the stripped back vocalized electronic funk of upcoming producer Ruben Mandolini.

As the mix takes a heavier twist, upcoming artist Daniel Bortz ignites his entrance to the Circle party with the throbbing, bass heavy, "Overload", leading into the seductive tones of Cynthia Queenton which signal something very special is about to happen as Chris Venola and Maurizio Vitiello debut on Circle with the exceptional "I Wanna Dance". Watch out for Chris Venola's debut artist album coming on the Circle label in September, a serious talent is waiting in the wings! Finally, with its instantly memorable saxophone hook, comes "Santa Esmeralda" by 2 guys from Austria known as Pyjamas, delivering a perfect end sequence to what is a stunning showcase mix of Circle Music talent for 2102.

Listen to snippets of all the tracks here:
http://tinyurl.com/9a4z4sg

Herausgebedatum: 14. September 2012
Label: Circle Music, Germany
Katalognummer: Circle 013_2 CD
Label: Circle Music
Die CDs können direkt auf der Site [http://www.cede.ch] oder auf der Site [http://www.directmedia.ch] bestellen werden.
Die CDs können direkt auf der Site [http://www.vinylnews.ch] oder aud der Site [http://www.webrecords.com].
Diesen Eintrag wurde am 04.09.2012 durch sven publiziert.