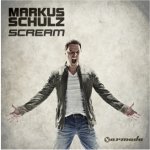 Mixed by Markus Schulz - Scream.
Back in June 2010 one of the world's most inventive electronic music minds released the artist album odyssey that was 'Do You Dream?' Fan applause, cross-genre DJ support and dance press acclaim greeted one chart-scaling, master-blasting single after another.

From 'Do You Dream's day of release though, Markus Schulz had already begun imagining and conceiving the sound designs that would go to make up his next long-playing excursion.

Now, comprising a 19-track packed collection of ear catching, floor quenching, seismic audio, his 'Dream' is about to turn into a mighty 'Scream'!

"When you're in the studio, deep in production mode on an album, your mind's eye is forever picturing the reactions tracks, and moments in tracks, are going to generate", says Markus. So in many respects the title 'Scream' is also the album's mission statement. It's that response, that surge of feeling and emotion I want to come back up off the floor when one of its tracks goes on. When it happens, you know all the late hours in the studio, putting the pieces in place, have been worth it!"

With a single-minded quality-meets-quantity credo, Markus has made judicious use of known vocal talent and new singer/songwriter blood on the album. These include US-based sensations Jaren and Aruna, as well as Paper Aeroplanes front-woman Sarah Howells. Also front-and-centre are precocious newer talents, with the likes of Seri and new Schulz discovery-cum-protégée, Adina Butar joining 'Scream's vocal cast.

Giving the album a strong song-edged bias has resulted in one with productions that span EDM's spectrum.

For every daytime radio inciting number ('Until It's Gone', 'Love Rain Down On Me' and current single 'Caught' to tag but a few), there's also the more underground themes of tracks like 'Deep In The Night', 'Absolution' and the album's thrilling title track. During the final weeks of 'Scream's production Schulz commented: "one of the side-effects of producing instrumental long-players like my Dakota 'Thoughts Become Things' series is that you keenly feel how much you miss working with lyrics and vocals. 'Scream' will be my most vocal-oriented album yet and I believe that the singer-song-writing talent I've collaborated with, it will also make for my most accomplished".

'Scream' isn't exclusively about the vocal though. Building the consummate 360° electronic music album requires contrast and that comes firmly into focus with its heart-of-the-dancefloor seeking instrumentals. From the scene-setting beat-free overture of 'Our Moment' to the serrated synthery of floor-ammo like 'Triotronic', 'Soul Seeking' and 'Loops n Things' (with Ferry Corsten) it delivers a comprehensive, panoramic, day-or-night-time listening experience.

Through it Schulz has once again demonstrated that the production side of his mind is alive, kicking and quite literally screaming to be turned loose. And on August 31st that's exactly what will happen.

Planet EDM will never be quite the same again.

Pre-order now on iTunes and ArmadaShop.com. Album will be released August 31st.

Pre-order your signed copy of Markus Schulz – Scream!
Packing a new collection of hypersonic, club-captivating tracks, from across electronic dance music's wide spectrum, Markus Schulz' new studio album is primed and ready to wow & thrill. Featuring some of the finest singer, songwriter and co-production talent in the EDM stratosphere, on August 31st 'Scream' drops. But in advance, there's the pre-order. And it's bringing you something very special: a signed copy with a personal note from Markus himself!

UPDATE
The signed copies are now sold out! The regular copy is still available though at ArmadaShop.com.

If you pre-order the album on ArmadaShop.com now, within the pre-order period, you get this collector's item, with a personal note especially for you! So start screaming, and don't forget to pro-order 'Scream' on ArmadaShop.com now!

Herausgebedatum: 31. August 2012
Label: Armada
Katalognummer: ?
Label: Armada
Die CDs können direkt auf der Site [http://www.cede.ch] oder auf der Site [http://www.directmedia.ch] bestellen werden.
Die CDs können direkt auf der Site [http://www.vinylnews.ch] oder aud der Site [http://www.webrecords.com].
Diesen Eintrag wurde am 04.09.2012 durch sven publiziert.