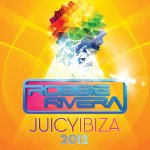 Mixed by Robbie Rivera - Juicy Ibiza 2012.
Continuing his successful series for the sixth consecutive year, Robbie Rivera presents his brand spanking new mix compilation "Juicy Ibiza 2012". Epitomizing the sun drenched atmosphere of vacation time, beaches, palms and pool parties in his unique matchless style, DJ/producer Robbie Rivera drops the newest cuts in a feel good summer vibe with "Juicy Ibiza 2012". With this double-disc continuous DJ mix sporting this summer's current smashes and floorfillers "Juicy Ibiza 2012" is going to extend the season a bit more, the Balearic way.

Kicking off CD1, Robbie Rivera and Manuel De La Mare make the perfect entrance with "I Love Ibiza", followed by "Forever Young" and "Makes Me Feel Good". Making transitions to new singles by Cosmic Gate, Danny Howard and a Tristan Garner Remix of Tiësto's all time classic "Traffic", Rivera seamlessly moves towards his collab with Queen of Rocktronica JES, entitled "Turn It Around". House goddess Ultra Naté also makes an appearance with the Robbie Rivera Anthem Remix of "Save Me", followed by Dero vs Stefano Pain & Marcel who lend their own floor filler "Retweet". The lovely Andain chimes in on "Promises" in the fabulous Lenny Ruckus & Ana Vida Remix closing the first disc with a trancy tech-thriller.

The heat increases on CD2, with Lea Luna and Quivver's "Arrest The DJ" igniting the sound systems. Alex Guesta ft. Lili Rose's "If I Could" is one of those party starters; while Robbie's own "In The Morning" with the sexy Wynter Gordon proves that the Juicy producer still has the skills to create the hot chart stoppers. Russian trance master Bobina's smash "Quattro 372" takes the party factor up to level 10 in Robbie Rivera's Tribal Juicy Mix. This disc climaxes like a true Rivera live set would, and the entire mix is as energizing for a long drive as it is for a powerful work out at the gym. Mixed and compiled by the man himself, the originator of the world-renowned Juicy Beach parties and 'tuff, sexy house music', Juicy Ibiza 2012 will perfectly underline your summery holidays and will take you back to the chilled mojitos, palm trees, sandy shores, beautiful people and state of the art music, delivered in the famous trademark style of Robbie Rivera.

Robbie Rivera was nominated as "Best Producer" by the 2004 Dancestar Awards, followed by "Best House Producer" by Beatport, and "Best Remixer" by the International Dance Music Awards in 2008. In 2009, Rivera released the fourth Juicy Ibiza compilation, and the release hit many iTunes Top 5 charts all over the world. His artist album "Closer To The Sun" garnered critical praise and a great deal of media attention around the globe with hit singles including "Closer To The Sun," "Let Me Sip My Drink" feat. Fast Eddie, "Rock The Disco" and "We Live For The Music". His latest album "Dance or Die" hit the streets in May 2012 and his most recent single "In The Morning", featuring Wynter Gordon, is currently blowing up radio and charts worldwide.

Herausgebedatum: 27. August 2012
Label: Black Hole
Katalognummer: BH CD 97
Label: Black Hole Recordings
Die CDs können direkt auf der Site [http://www.cede.ch] oder auf der Site [http://www.directmedia.ch] bestellen werden.
Die CDs können direkt auf der Site [http://www.vinylnews.ch] oder aud der Site [http://www.webrecords.com].
Diesen Eintrag wurde am 04.09.2012 durch sven publiziert.